The IET® for Pets with Linda Anzelc Huitt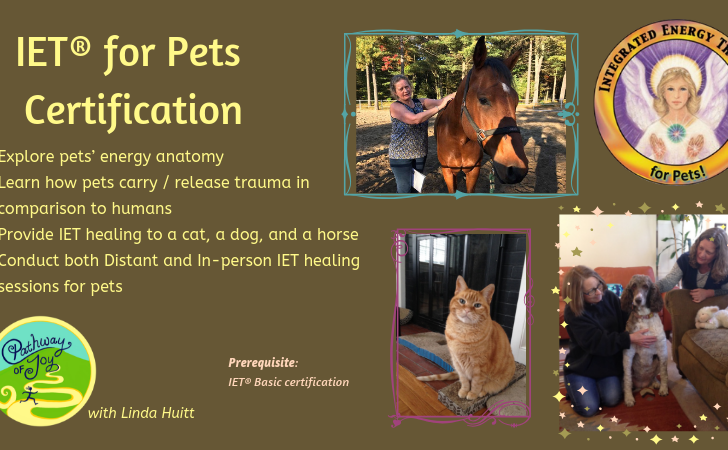 The IET® for Pets with Linda Anzelc Huitt
The IET® for Pets with Linda Anzelc Huitt
Saturday, October 5th 9:00am-5:00pm
To register for this class please contact Linda directly:
https://www.pathwayofjoy.com/book-online/iet-for-pets-cert-oct-5-essex-ma
This class is for anyone who loves animals. It focuses on applying the beautiful Integrated Energy Therapy® techniques to clear trauma from cats, dogs, and horses; the techniques can apply to other animals as well. * Explore pets' energy anatomy * Learn how pets carry / release trauma in comparison to humans * Provide IET healing to a cat, a dog, and a horse * Conduct both Distant and In-person IET healing sessions for pets
The cellular memory in non-human animals is in some ways similar to that of humans, but is in many ways different. This class explores the soul's mission of these three types of pets (through information channeled from Angel Ariel), details their nine cellular memory areas, their IET integration points, and the complete step-by-step session procedures.
Prerequisite: Basic Level IET® certification
Time:
This is an 8-hour class, including an hour lunch break (you may bring a lunch or go out)
Class Fee: Includes handbook and printed certificate
$140 (Early Bird $125 - register and pay at least one week in advance)
Review/Refresher Fee :
$75 (Prerequisite - IET® for Pets certification by an IET Master-Instructor)